#shareyourair by #purplenoise at Kunstmuseum Wolfsburg
Empowerment Exhibition
10 September 2022 – 8 January 2023
Installation, 50 posters, (text and visuals), 10 cube-shaped seat cushions, carpet elements
Monitor with documentation of the performance and animations, handouts (manifesto and postcards)
Social media interaction
Magdalena Götz, Christina Grammatikopoulou, Janine Sack, Sabine Siegfried, Cornelia Sollfrank, Sophie Wohlgemuth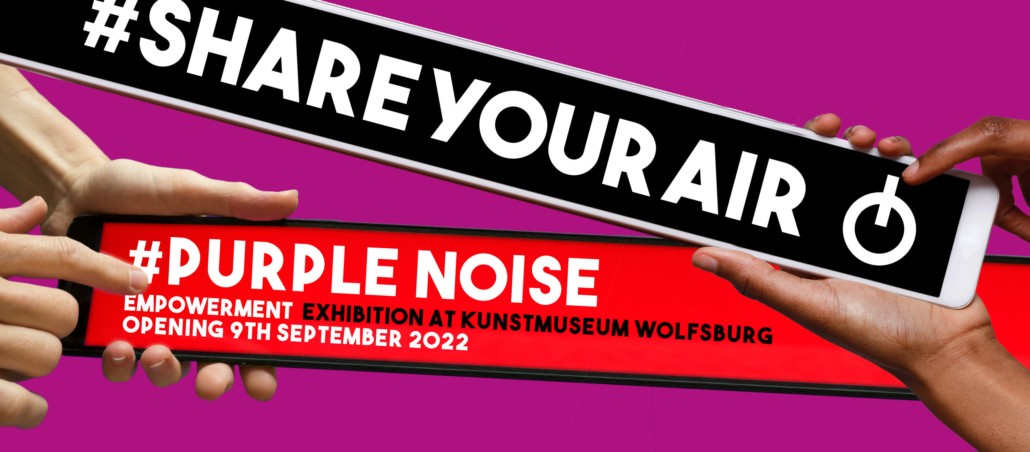 For the exhibition Empowerment, we have developed a new project: #shareyourair enables visitors to experiment with breathing and to get a better understanding of its social and environmental complexities.
As a technofeminist research group, we are concerned with the relationship between physical and virtual space. The multiple excessive demands of post/pandemic life, such as the permanent use of digital communication media as a substitute for physical closeness, have led us to increasingly turn to our own bodies in this project. On our research journey, we decided to take an in-depth look at the universal significance of breathing.As a vital bodily function, it is common to all living beings. Breathing connects. Unconsciously, we breathe out what is going on inside us, thereby changing the air around us. Conscious breathing can influence physical and emotional well-being. At the same time, the breathing of the individual body expresses the concrete living conditions, the social and environmental situatedness of a living being. What air we breathe and how well we breathe varies greatly.
However, breathing also connects us to our entire environment. We are dependent on the air we breathe, the plants that produce oxygen, and the entire atmosphere in which we coexist. This interdependence requires us to treat our environment with respect and care.
Conscious breathing is self-care, but it also raises awareness of the multiple interdependencies in which we find ourselves as breathing beings. We invite you to be inspired by our research, experiment for yourself, share your experiences with each other and on social media.
In our live performance Breathing Choir, we continue our breathing experiment: a negotiation of synchronizing and queering the breaths of ourselves and others. Given different bodies, environments and experiences, can we ever really breathe the same?
With the exhibition Empowerment, the Kunstmuseum Wolfsburg is for the first time offering a comprehensive global overview of art and feminisms of the twenty-first century with roughly 100 artistic positions from some fifty countries from all continents. Within the framework of seven thematic fields that have emerged from the worldwide research (Protest & Empowerment, Gender & Identity, Herstories & Other Narratives, Desired & Violated Bodies, Labour of Care, Planetary Challenges, Feminist Futures), the artworks will explore the following questions, among others: How do artists act out of their respective situations in the postcolonial, digital present? What emancipatory understanding underlies their art? How do they broaden their view of a feminist-oriented future? Questions regarding social inequality, sexism, racism, migration, the relationship of bodies, technology, and ecological concerns will also be negotiated. These issues affect everyone.
Curators: Andreas Beitin, Katharina Koch, and Uta Ruhkamp.
Facebook: @purplenoiseup
Twitter: @purplenoise1
Instagram: @purplenoiseup